Reconergy wins Hong Kong Shooting Star and ProductIP wins Cathay Pacific China Business Award 2017
Reconergy wins Hong Kong Shooting Star Award
Consul General in Hong Kong Ms. Annemieke Ruigrok, handed the Hong Kong Shooting Star to Reconergy founder Tom Uiterwaal. Reconergy considers sustainability to be of paramount importance. Naturally, Tom Uiterwaal saw the possibilities for linking the used cooking oil stock from Asia to the development of the biodiesel industry in Europe. As one of the first pioneers in purchasing and exporting this used cooking oil from Asia to Europe, Uiterwaal set up his own company Reconergy five years ago. Not only is converting these waste nutrients to biodiesel a good development for the environment (very strong reduction in greenhouse effect), but by buying these used cooking oils at a fair price Reconergy also ensures that this is no longer sold to small cheap restaurants for re-use in their kitchens which benefits the health of many Asians. With this, Reconergy has developed a new market that works positively for both East and West and also reduces illegal practices. Reconergy already has new plans to tackle the plastic stock of Hong Kong. Their Waste-to-Energy mission has only just begun. 
Runner up for the Hong Kong Shooting Star Award was LUGGAGEMATE, an innovative company that has designed a range of high quality safety luggage straps with built-in digital luggage scales and combination locks. They pay attention to sustainability, as LUGGAGEMATE safety straps can be produced with a luggage strap made out of recycled material.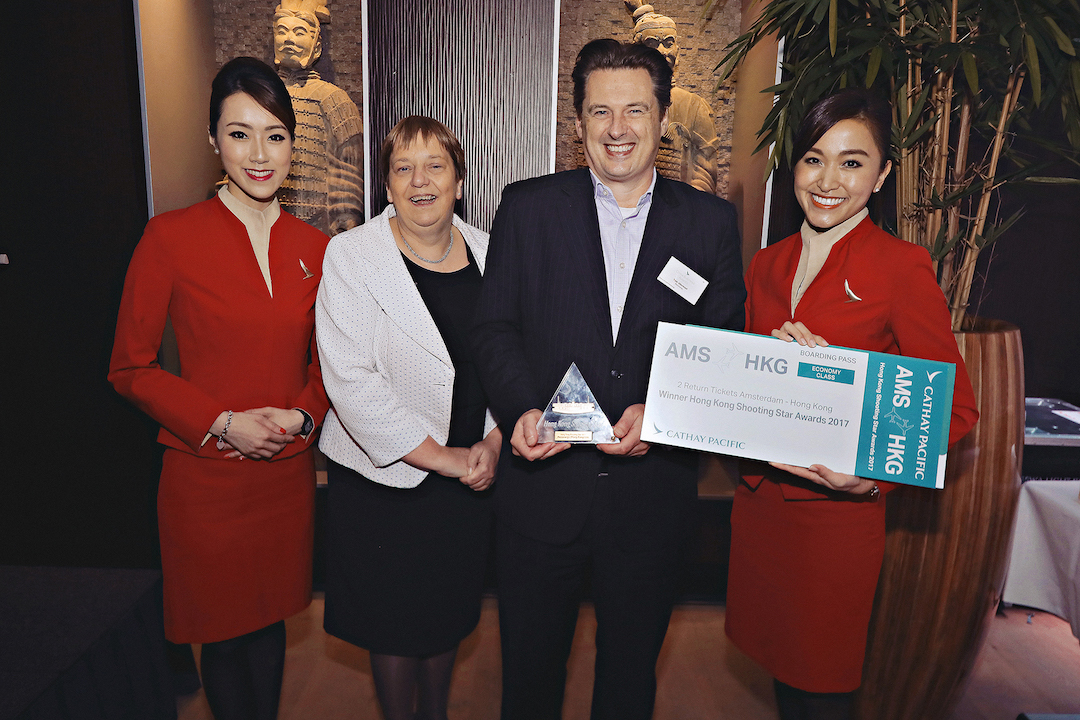 Reconergy founder Tom Uiterwaal receives the Hong Kong Shooting Star 2017 Award from Consul-General in Hong Kong Annemieke Ruigrok and two Economy Class tickets from Cathay Pacific.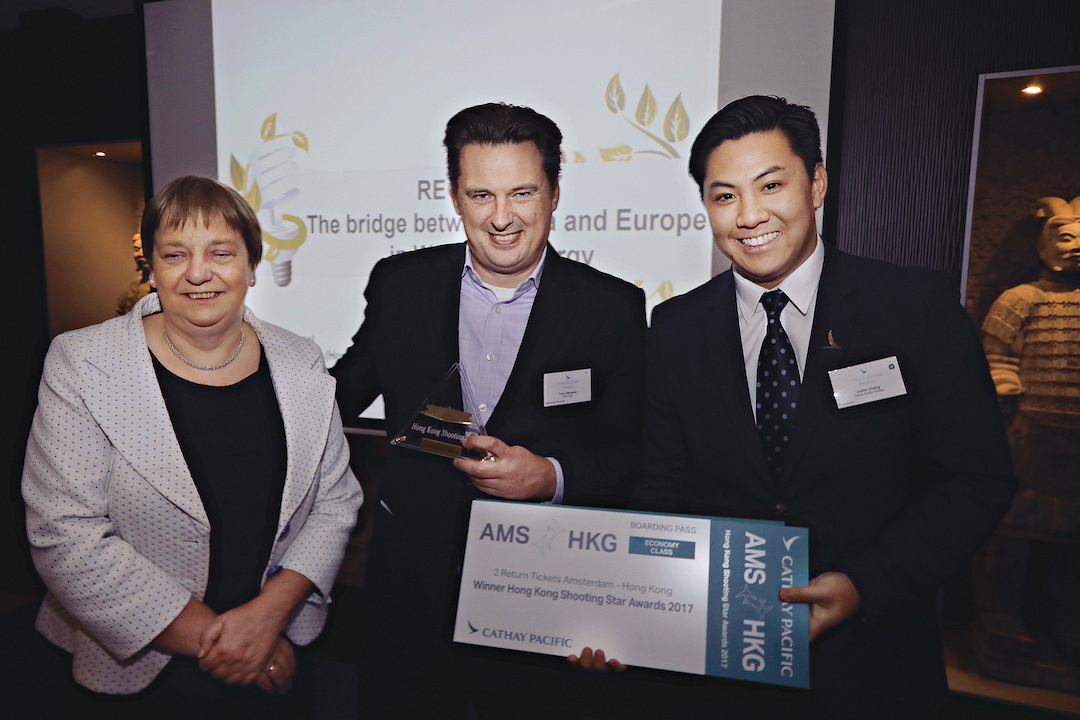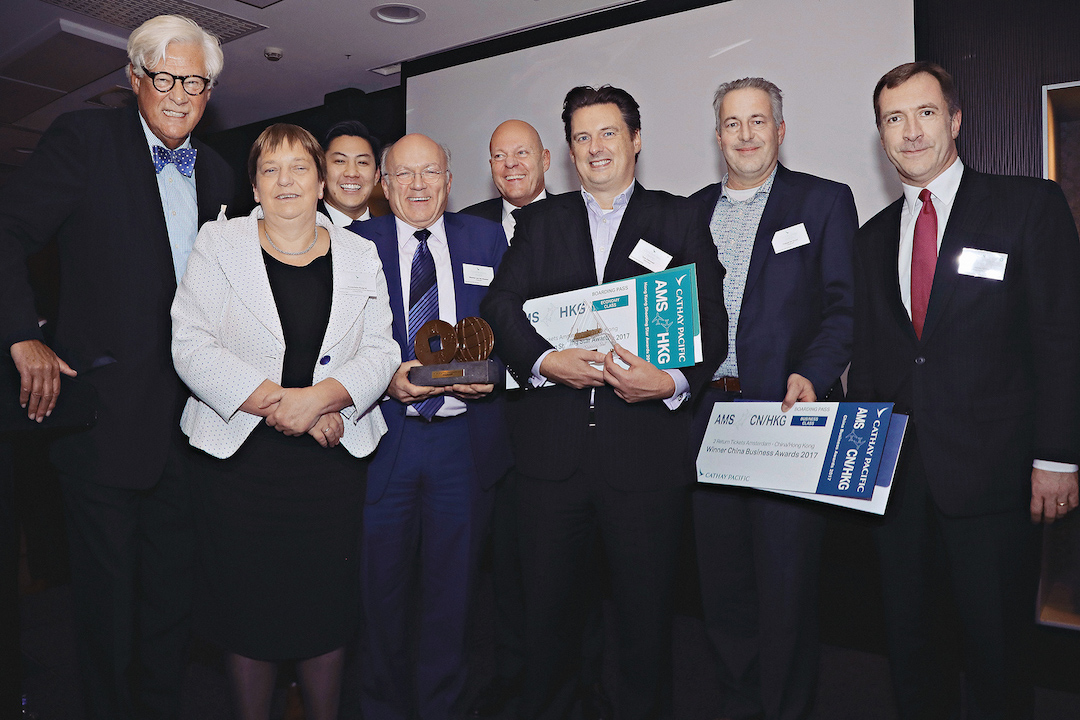 ProductIP wins Cathay Pacific China Business Award

The jury was impressed with the submission of ProductIP. The company is making great strides and is a valuable contributor towards strengthening the relationship between the Netherlands and China. They also provide knowledge, quality awareness and employment in China. "ProductIP is doing something very unique in China and that is not easy. There are big challenges in terms of legislation and regulations for the European market when you work with products in China and ProductIP offers a great opportunity for this. They have created a strong company in a fairly short time and that is impressive, according to the jury members.
ProductIP provides retail, trade and manufacturers with complete knowledge and solutions in the field of Product Compliance Management for the products they purchase in China and other countries for the European market. The web-based ProductIP collaboration platform is used to support customers and authorities to measure if a product meets relevant customer requirements and regulations. ProductIP was founded in 2008 by Maarten van der Dussen and Caspar ter Horst. They noticed that there was an increasing need for more efficient ways to manage product control. This is mainly due to the increasing emphasis on compliance and increasing consumer demand for safe, healthy and environmentally friendly products from a sustainable supply chain. The founders combine more than 50 years of experience in legislative and compliance issues in the field of industrial and consumer products.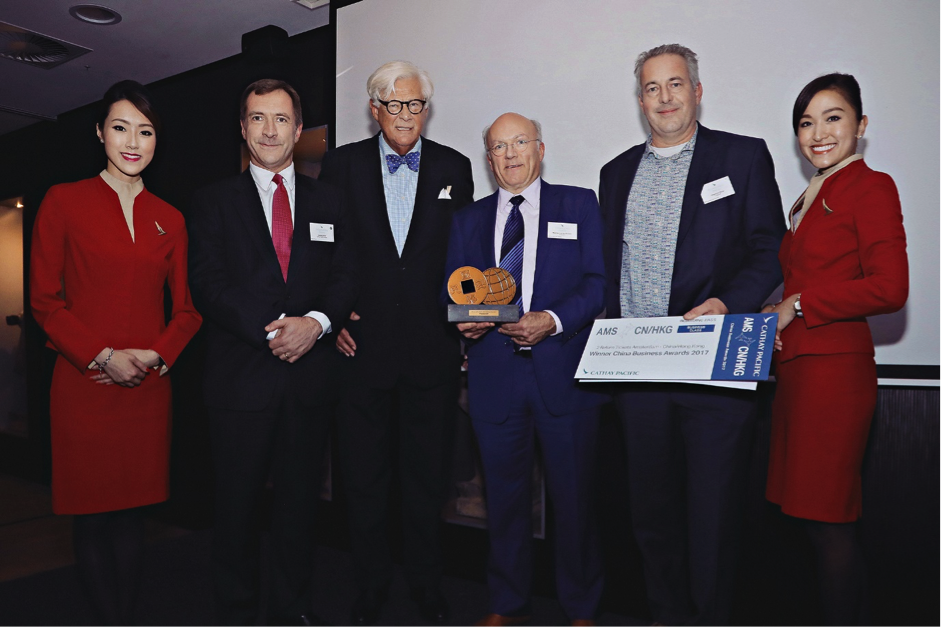 Winners receive the China Business Award, two Business Class tickets from Cathay Pacific and two nights at the Kerry Hotel Hong Kong from Shangri-La Hotels & Resorts.