LGT Signs Strategic Cooperation Agreement with China Renaissance
LGT Signs Strategic Cooperation Agreement with China Renaissance
We are very pleased to announce that on 12 March 2019, LGT represented by H.S.H. Prince Max von und zu Liechtenstein, CEO of LGT signed a cooperative strategic partnership with China Renaissance Holdings Limited [CR;Stock Code1911.HK], to provide global wealth management services to Asian ultra high net worth individuals.
Based in Beijing, CR is a leading investment bank and asset management firm dedicated to China's new economy businesses. The bank provides one-stop financial services across mainland China, Hong Kong and the United States, connecting China's capital markets with the rest of the world. They specialise in supporting entrepreneurs from the TMT (technology, media and telecoms) and healthcare sectors – both industries with large potential for growth. 
Earlier in end September 2018, LGT had announced a USD 25 million cornerstone stake in the successful IPO debut of CR on the Hong Kong Stock Exchange as part of a strategic initiative to further strengthen our network with leading Asian tech entrepreneurs and to enhance our investment competence in this exciting area.
With the signing of this strategic partnership, LGT Private Banking Asia looks forward to the future synergies of network referrals and mutual business cooperation between our two banks in the key areas of wealth management/preservation and asset management in Greater China.
Asia and in particular China, will continue to see strong growth in the financial services and technology sectors and together with our partner CR, we hope to bring LGT and the Princely Family's recognised expertise and experience in wealth management and preservation to wealthy entrepreneurs of the New Economy in this region.
In kicking off this new strategic partnership, we are also very pleased to have as one of our guest speakers at the upcoming PBA Princely Portfolio (GIM) Conference in Hong Kong on 11 April, 2019, Mr. Bao Fan, Founder, Chairman and CEO of China Renaissance, who will share his expertise on the very current topic of trends and opportunities of the New Economy.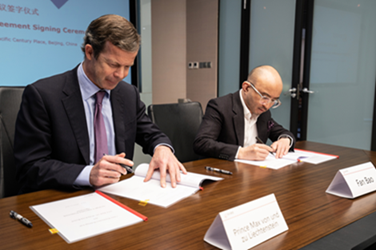 H.S.H. Prince Max von und zu Liechtenstein, CEO of LGT and 
Mr. Bao Fan, Chairman of China Renaissance, at the signing ceremony, 
H.S.H. Prince Max von und zu Liechtenstein, CEO of LGT Group said: "The signing of the framework agreement recognizes the opportunities two leaders in their own specialized area could better explore together. We at LGT are very excited to partner with China Renaissance to jointly address the growing wealth management needs of Asian ultra high net worth individuals, and we are confident this cooperation will strengthen each other's core businesses." 
Beijing 12 March 2019
http://www.chinarenaissance.com/newsDetail?nav=mediaNav&id=5c89bf4696328e0225543a96