From ABBA to Zappa - By Dutch photographer Gijsbert Hanekroot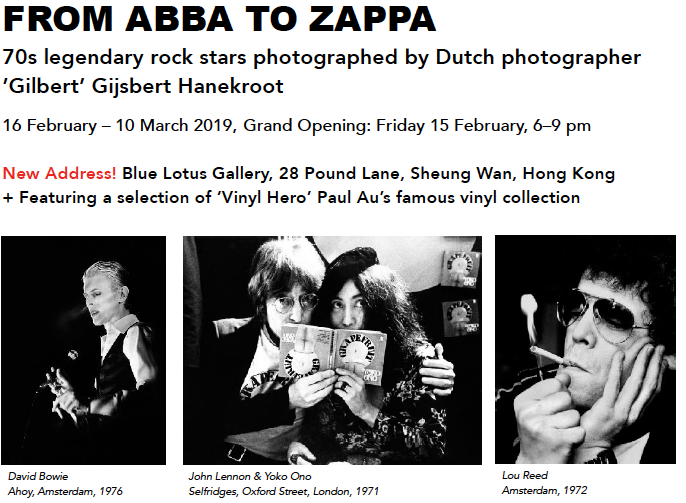 Gijsbert Hanekroot, or 'Gilbert' as better known amongst the rock stars he photographed, will have his debut exhibition in Hong Kong at Blue Lotus Gallery, showing his grainy black and white photographs of 1970s rock legends in their prime including David Bowie, Mick Jagger, Patti Smith, Neil Young, BB King and other A-list artists who changed music forever. Gilbert gained intimate access to musical Gods we still worship today and amassed a visual rock-archive FROM ABBA TO ZAPPA. This rare opportunity to see a selection of Limited Edition and Vintage prints as well as related books will mark Blue Lotus Gallery's first major exhibition at their brand new venue on 28 Pound Lane, Sheung Wan.
During concerts, I was always planning to take the best picture ever… Pretty ambitious, but I actually managed to
do it a few times, especially during performances where the artists pushed themselves to the limit…If they played
out of this world, I took pictures that were out of this world. I was exhausted after those kind of concerts.
Concerts by Lou Reed, Neil Young, CCR and The Band. Nights I'll never forget, thats how thrilling they were.
Gijsbert Hanekroot 2008 - in 'Abba…Zappa'
Back then, the rock scene was not quite the well-oiled machine it is today. Things still had to be
invented: light installations, sounds, promotion, organisation, crowd control. This also applied to music
journalism. How do you capture music, describe it? And equally important, how do you photograph it?
Gijsbert Hanekroot 2008 - in 'Abba…Zappa'
ABOUT BLUE LOTUS GALLERY
Blue Lotus Gallery, established in 2007, is a photography gallery with a strong focus on exploring Hong Kong culture and identity. The gallery offers an exquisite selection of books, limited edition and vintage prints on old and new Hong Kong by respected master photographers and emerging contemporary artists. Blue Lotus represents Fan Ho and his estate exclusively worldwide and is the sole agent worldwide of Wing Shya. The gallery has also been instrumental to debuting artist's careers such as KC Kwan, Romain Jacquet-Lagrèze and Tugo Cheng who the gallery represents exclusively. The gallery is located in a quaint historical pocket on 28 Pound Lane, Sheung Wan, Hong Kong. Blue Lotus Gallery rocks and never seizes to surprise. Its certainly worthwhile checking out this throw back to the good old days in music while discovering their brand new gallery spot.